Sports Betting Tips
Trend Betting - How Big is Your Database?

While most people would think that picking an angle to use when betting on a game, the main focus is recent performance and other motivating factors such as playoff implications, etc. However, there is definitely some truth to the expression "history repeats itself", and the world of sports is no different. Some of the world's top handicappers are students of the trend betting technique--Marc Lawrence for example--but keep in mind: these guys have built up extensive statistical databases over many years and have easy access to the kind of information that it would take the average sport better countless hours to compile. In this column I will offer you some tips to keep in mind when thinking about betting trends.

Not to be Confused With Streaks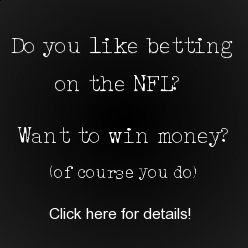 What are you waiting for?
We are KILLING it with our NFL Five-Star Football picks in 2010. If you want to win some money, do yourself a favor and check this out. Won't cost you hundreds or thousands of dollars like all the other "experts", and we win more than they do. Strike while the iron is hot, people.
Trends--at least in my opinion--are instances that occur repeatedly over a long period of time. If the team with home court advantage has won their first round NBA Playoff series 70% of the time over the past 25 years, then I would consider that a trend. If the Lakers have covered the point spread 9 out of their last 10 games, then I would consider that a streak. I don't posses the kind of mathematical mind that is required to effectively express the differences in both situations, but suffice to say that if something happens over and over again, over the course of many years, then chances are it will happen again.

Not For Everyone

I've always been kind of on the fence on this subject. On the one hand, numbers don't lie and some of the trends that I've read about over the years are too strong to ignore. On the other hand, how can a person log onto their sport book account and bet their money on the outcome of a game based purely on what has happened in the past, ignoring current performance. The answer, I suppose, is finding a good middle ground. I'm always preaching the importance of research here at sportbooksreview, and today is no different. If you've done your homework and have identified an angle that you like, and it also happens to be backed up by some solid trending data, then chances are you have found yourself an advantage.

The main problem with finding good trends is that access to the type of statistical information required is not easily put together. Sure, you can find just about anything on the Internet, but to find it all in one place in a neat package is next to impossible. You could subscribe to a Marc Lawrence type of capper and follow his advice, however then you're basically in a purchasing picks scenario and have removed yourself from the process. Everyone is different, so do what you feel is right for you.

Check out more of our sports betting tips articles to become a smarter sports better. Knowledge is power, folks. Best of luck, and please gamble responsibly!

--ajec


To be successful in sports betting, you need multiple sport book accounts. Click the banner below and sign up with our #1 rated site, Sports Interaction--your satisfaction is guaranteed. Or check out a review of one of our other top Sport Books to see which is best for you.




















pinnacle sportsinteraction bodog betus bookmaker 5dimes sportsbook
online sports book reviews, bonus information, promotions, promos, bonuses

sportbooksreview.com - your #1 gambling source for sport books reviews, sport betting information, sports betting tips and advice, enjoy your stay!

This site was constructed to showcase some of the better online sports books. The information is opinion only, and should in no way be considered 100% accurate. This site is for entertainment purposes only. Online gambling may not be legal in your area, check with your local authorities if you are unsure. You are solely responsible for your actions, not this site, it's owner or any of its affiliates. Please gamble responsibly!