Sports Betting Tips
Buying Points in the NFL - Yay or Nay?

It's never the wrong time of the year to talk about football, so today I'm going to offer some tips and tell you the scenarios in which history has shown to be beneficial for buying points in the NFL. This is a topic that could spin off into detailed statistical analysis, however for the purpose of this article I'm just going to generalize the concept and outline a couple of point spreads that are favorable for the sports bettor.

Understanding Key Numbers

You'll often hear the term "key number" when listening to experts discuss sports betting. When they refer to a key number, they're essentially referring to a point spread or total that hits at a higher (or lower) percentage than others. To keep this article relatively simple, we will only focus on point spreads. In football, 3 and 7 point spreads are the biggest key numbers for the obvious reason that a field goal equals three points and a touchdown/conversion equals 7 points. To really illustrate the importance of these numbers, consider this: nearly 25% of all NFL games end with a margin of victory of 3 or 7 points. This is why lines makers set the majority of NFL games at a point spread of 2.5-3.5 or 6.5-7.5, and it's these half points (known as "the hook") in either direction that can have an enormous impact on your bankroll.

It'll Cost You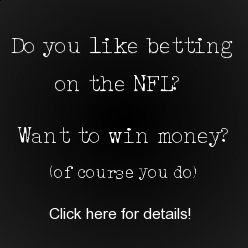 What are you waiting for?
We are KILLING it with our NFL Five-Star Football picks in 2010. If you want to win some money, do yourself a favor and check this out. Won't cost you hundreds or thousands of dollars like all the other "experts", and we win more than they do. Strike while the iron is hot, people.
An important thing to keep in mind when thinking about buying points is: it will cost you. This is why they call it "buying" points, because you are laying more juice to get your desired spread. Typically, your sport book will charge you $110 to win $100 profit on a posted point spread. Every half point you buy will cost you somewhere in the neighborhood of an extra $12 on a $100 wager, making it all the more important to be extremely selective as a losing bet will cost you more money.

And The Winners Are...

Through extensive number crunching, the fine folks at thelogicalapproach.com compiled a chart which outlined the results of buying points in the NFL. They found that the majority of the time, buying points is a money losing venture. There are, however, four situations that proved to be profitable, and they relate to our key numbers discussion above. In order, they are as follows:

Buying a favorite down from -3 to -2.5
Buying an underdog up from +3 to +3.5
Buying an underdog up from +2.5 to +3
Buying a favorite down from -3.5 to -3.

There were a couple of other instances that made some money, but they paled in comparison to the Big Four listed above. Interestingly enough, buying points in the 6.5 to 7.5 range did not show to be profitable. Keep this information in mind during football season--it could make the difference between a winner and loser.

Check out more of our sports betting tips articles to become a smarter sports better. Knowledge is power, folks. Best of luck, and please gamble responsibly!

--ajec
To be successful in sports betting, you need multiple sport book accounts. Click the banner below and sign up with our #1 rated site, Sports Interaction. Or check out a review of one of our other top Sport Books to see which is best for you.


pinnacle sportsinteraction bodog betus bookmaker 5dimes sportsbook
online sports book reviews, bonus information, promotions, promos, bonuses

sportbooksreview.com - your #1 gambling source for sport books reviews, sport betting information, sports betting tips and advice, enjoy your stay!
This site was constructed to showcase some of the better online sports books. The information is opinion only, and should in no way be considered 100% accurate. This site is for entertainment purposes only. Online gambling may not be legal in your area, check with your local authorities if you are unsure. You are solely responsible for your actions, not this site, it's owner or any of its affiliates. Please gamble responsibly!